Ferry Capsized in a "freak accident" off Masbate Province
MANILA, Philippines—(UPDATE 3) Tuesday, 4 November 2008 Forty people, including 11 children, were killed when a ferry capsized in a "freak accident" off Masbate province early Tuesday afternoon, the local police chief said.

The ferry, with 119 people listed on board, keeled over after being struck by a freak wind off the island of Masbate, according to Senior Superintendent Reuben Sindac, Masbate provincial police director.

"The Don Dexter Kathleen capsized due to a freak accident, it was hit by a high wind despite fair weather and calm waters," Sindac told local radio.

He said rescue services recovered 40 bodies -- 11 children and 29 adults -- while 76 survivors had been pulled from the water. Twenty-five of the adult casualties were women.

Sindac did not rule out the possibility that there may have been more people onboard the ferry.

It is a common practice for inter-island ferries to be overloaded with last-minute passengers boarding without being listed in the manifest.

Sindac said the boat's skippers, Dexter Cathlyn, Dante Bombales, were taken in custody to determine their liability in the accident. The Philippine Coast Guard also placed boat owner Eduardo Yap under its custody.

Bombales was rescued, together with 75 others, by joint teams from the Coast Guard and police, plus other volunteers who rushed to the site.

M/B Don Dexter capsized five kilometres from shore in Dimasalang town after a squall hit it 1 p.m. Tuesday.

Police have yet to identify the victims.

Sindac said the ferry, which was bound for Bulan town in Sorsogon, was barely 20 minutes into its voyage when the incident occurred.

Coast Guard and police rescue teams were able to recover the manifest of the ferry, which showed it had 119 passengers.

There was no mention of how large a crew the ferry had.

The coastguard described the vessel as a large wooden-hulled outrigger, the main mode of transport between the 7,000 islands that make up the Southeast Asian archipelago.

Meanwhile, rescue teams have suspended rescue operations past 7 p.m. Tuesday and is expected to resume 7 a.m. Wednesday, Sindac said.

Sindac said they could not say the exact number of missing passengers because some could have boarded even if they were not included in the passenger manifest.

Sindac also said that the incident was an "accident" and such squalls were normal.

"The wind is very unusual but that's normal here," he said.

But police are not discounting that the ship could have been overloaded when it left shore, Sindac added.

Second Lieutenant Jeffrey Collado, the local coast guard chief, said four people were still missing despite fears that there may be more still unaccounted for.

Collado said the ferry was hit by a "freak whirlwind" that rose suddenly when the ferry left port.

Coast guard chief of staff Captain Efren Evangelista said the weather and waters were calm and that there was no reason for them to stop the vessel from setting sail.

"Of course, we will be conducting an investigation of this, but for now we will be concentrating on the search and rescue operations," he added.

The accident comes four months after the 23,000 ton inter-island ferry, Princess of the Stars, capsized during a typhoon off the central island of Sibuyan carrying 850 passengers and crew.

Only 57 passengers and crew survived the accident which was the worst maritime disaster in the Philippines for 20 years.

Mishaps involving ferries are common in this archipelago where many poor people rely on small, poorly-maintained vessels to travel between islands. With reports from Kristine Alave and Ephraim Aguilar, Philippine Daily Inquirer

At least 18 people died after a motor boat sank off the coast of Dimasalang town in Masbate province, Tuesday afternoon.

Senior Superintendent Reuben Theodore Sindac, Masbate police director, said M/B Cathlyn was traveling from Bulan, Sorsogon when it was hit by big waves off the coastal village of Magcaragit in Dimalasang town around 2 p.m.

Sindac said 14 people, including two children, have been confirmed dead in the mishap.

A separate report gathered by ABS-CBN Legaspi said at least 21 people were killed in the tragedy.

The report added that 18 bodies have been recovered by police and coast guard rescuers.

Sindac said a total of 74 passenger of the speed boat have been rescued.

He said the boat had 119 passengers when it left Bulan town.
Romblons inclusion in 62-M coastal devt program including masbate
MANILA, Philippines - Even as local fishermen continue to reel behind the effects of a fishing ban imposed in Romblon, the Department of Environment and Natural Resources (DENR) on Thursday said will include the province in the list of beneficiaries of a $62.3-million coastal development project.

The DENR, in a statement on its website, said he will strongly endorse the inclusion of the province in the six-year Integrated Coastal Resources Management Project (ICRMP) which begins this year and ends 2012.

"Reports from our office in Romblon also show typhoon Frank affected many of Romblon's mangrove and fishing areas caught in its path," DENR Sec. Jose Atienza Jr said.

Some 68 coastal towns in the provinces of Cagayan, Zambales, Masbate, Siquijor and Davao Oriental are presently covered by the project which is being funded by the Asian Development Bank (ADB).

Atienza, who heads the ICRMP steering committee, said the committee will meet on July 8 to deliberate on the proposal to include Romblon in the ICRMP project.

"I would not be surprised if the body would come out unanimously for an endorsement for Romblon and, in turn, would also receive a favorable response from ADB given the importance of the province's coastal and marine resources upon which most of the its poor residents depend on," Atienza said, adding the province is one of the 20 poorest provinces in the country.

Other national agencies represented in the committee are the Department of Agriculture, the National Economic and Development Authority, Department of Interior and Local Government, and Department of Budget and Management.

ICMP seeks to improve management of coastal and marine resources by integrating and coordinating efforts at the national, regional and local levels.

The project gives priority to areas considered of great importance to marine biodiversity and their socio-economic value. It also puts importance on coastal areas with high incidence of poverty.

One of the project's components is providing to community beneficiaries of motorboats, handheld two-way radios, digital cameras, and underwater diving gears to enable communities to monitor their areas against illegal fishing activities.

It will also equip the communities with modern mapping tools like portable and desktop computers, printers, scanners and hand-held global positioning systems. - GMANews.TV
Masbate buries 60 bodies washed up on shores
Some 60 bodies washed up on the shores of Masbate province have been buried on orders of local officials due to lack of funds and fears of a disease outbreak.

Mayor Eduardo Andueza of Claveria town said he ordered officials to bury a total of 28 bodies for the past several days.

"We don't have any choice but to bury the bodies. Hindi pa ibinibigay ang formalin na puwedeng ipang-preserve ng mga cadaver. Ang mga bangkay nailibing na namin," Andueza told ANC television.

San Pascual Mayor Zacarina Lazaro, meanwhile, said 32 bodies have been buried in her town.

Lazaro said three more washed up bodies were recovered by residents in San Pascual's shoreline Thursday morning.

For her part, Mayor Nanette Tansingco of San Fernando, Romblon, said the local government is already running out of funds. She said a total of P170,000 have been used by the local government to purchase formalin for the cadavers recovered along the town's shoreline.

Several bodies recovered near the sunken M/V Princess of the Stars of Sulpicio Lines have also been brought to San Fernando, which is nearest to the capsized ship.

Tansingco said she cannot release more funds for formalin because the town is under a state of calamity. She said the town is one of the worst-hit areas in Romblon by typhoon Frank.

The mayor said Sulpicio should help the local governments in Romblon and other provinces to finance the recovery of bodies.

Earlier, Sen. Richard Gordon, chairman of the Philippine National Red Cross (PNRC), appealed to local officials in the affected provinces to refrain from burying the bodies.

Gordon said the PNRC will pick up the cadavers and bring them to Manila. He said families of the victims who are waiting at the Sulpicio office in Manila should be given the chance to identify their missing relatives.
MV Princess of Stars
Typhon "Frank" maintains strength, threatens Masbate
Public storm warning signal No. 3 has been hoisted in Romblon, Marinduque, Oriental Mindoro, Occidental Mindoro, Lubang Island, Calamian Group of Islands, Northern Antique, Aklan and Capiz.
Signal No. 2 is in effect in Masbate, Ticao Island, Burias Island, Sorsogon, Albay, Camarines Sur, Southern Quezon, Batangas, Laguna, Cavite, rest of northern Palawan, rest of Antique, Iloilo, Guimaras, Negros Occidental, and Biliran Island.
Signal No. 1, meanwhile, has been raised over Catanduanes, Camarines Norte, northern Quezon, Polillo Island, Rizal, Bulacan, Pampanga, Zambales, Bataan, rest of Palawan, Metro Manila, Negros Oriental, Cebu, Leyte, Eastern Samar, Western Samar, Bohol, and northern Samar.
As of 10 a.m., Frank was off the coast of Kalibo, Aklan or at 90 km south of Romblon, with maximum sustained winds of 140 km per hour near the center and gustiness of up to 170 kph. Frank was moving west northwest at 15 kph.
The typhoon will continue to enhance the southwest monsoon and bring rains over the western section of Mindanao, which may trigger flashfloods and landslides, the weather bureau warned.
Residents in low-lying areas and near mountain slopes under storm signals are advised to take all the necessary precautions against possible flashfloods and landslides, PAGASA said.
It added that those those living in coastal areas under signals 2 and 3 are alerted against big waves or storm surges generated by the typhoon.
CBCP asked to intervene to stop violence against Masbate farmers
MANILA, Philippines - A Catholic bishop asked the Catholic Bishops Conference of the Philippines (CBCP)'s intervention to stop violence against farmers and peasants in Masbate province.
Masbate Bishop Joel Baylon said farmers are being harassed in their struggle to avail of the government's Comprehensive Agrarian Reform Program (CARP).
"I fervently request the CBCP to help the peasants and rural workers of Masbate as well as those in other affected areas, to gain social justice and economic upliftment through land reform," Baylon said in his letter to the CBCP, portions of which was carried by an article posted on the CBCP website.
Baylon said the CBCP's assistance will be needed to stem the increasing human rights violations in Masbate as a result of the people's pursuit of land reform. He noted that over the past few years, peasants and rural workers have been organizing themselves to pursue agrarian reform, with the help of the Church.
The prelate lamented there are still many "stumbling blocks" in their promotion of agrarian reform in the province, including the strong resistance of landowners which has resulted to various human rights violations against farmers.
"Harassments, abductions, filing of criminal cases, confiscation of the copra harvested by the farmers, and even murder have been experienced by peasants," Baylon said.
"May I seek your kind help in assisting the poor farmers and peasants of the province of Masbate, and in abating the acts of violence done against them," he added.
Masbate serves as a gateway of Luzon to some Visayan islands as Cebu and Panay, and is the country's third poorest province with about 62 percent of its population living below the poverty threshold.
Baylon said that for the past 10 years when he served as bishop of Masbate, he has directly seen the face of poverty in his pastoral jurisdiction. He said one major reason for this sad reality is the concentration of agricultural lands in the hands of a few families.
Also, he said most lands in their area have been turned into pasture areas for cattle. In coconut areas, share tenancy still exists where 60 to 70 percent of the harvest goes to the landowners, he noted. - GMANews.TV
Mild quakes rock Masbate, Southern Leyte
A magnitude-3.2 quake rocked Masbate province before dawn Thursday while two mild quakes hit Southern Leyte province Wednesday night.
The Philippine Institute of Volcanology and Seismology (Phivolcs) said it has not received reports of casualties or damage caused by the three quakes.
In a report on its website (phivolcs.dost.gov.ph), Phivolcs said the Masbate quake occurred at 1:54 a.m., and was traced eight kms northeast of Masbate, Masbate.
Phivolcs said the quake was tectonic in origin, and measured at magnitude 3.2. It was felt at Intensity IV in Masbate, Masbate, but no damage was reported.
It followed a magnitude-4 quake that rocked Masbate province shortly before midnight Tuesday, but Phivolcs said there was no damage or casualty reported in that quake.
Meanwhile, Phivolcs recorded the first quake that hit Southern Leyte at 8 p.m., and traced the epicenter to 44 kms northeast of Maasin, Southern Leyte.
It said the quake measured at magnitude 2.4 and was felt at Intensity III in St. Bernard, Southern Leyte, the site of a deadly mudslide that killed thousands last year.
A second quake there was recorded at 8:33 p.m., with the epicenter 11 kms northeast of Maasin. The quake measured at magnitude 2.2 and was felt at Intensity II in St. Bernard. - GMANews.TV
10-hr hostage crisis in Masbate ends, hostake taker killed
Police on Friday shot dead a man who held hostage his former live-in partner in Masbate province, ending an almost ten-hour hostage crisis.
The hand grenade carried by hostage taker Ronaldo Flores, 34, exploded after he was shot at 5 p.m. in Masbate City but victim Nora Verano was not harmed. Authorities said Verano was able to run away from the suspect before they opened fire.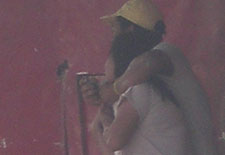 Flores held hostage Verano around 7:30 a.m. after beating her up inside a ceramics and tiles store owned by the victim on Crossing Quezon Street in Masbate City, said Senior Superintendent Saavadra Mapandi Gani, police provincial director.

Gani said Flores, who was believed to be under the influence of an illegal substance, attacked Verano inside Mariwasa, N.R. Verano Ceramic Tiles Center.
Police said Mobo Mayor Fercival Castillo helped in the negotiations but the hostage taker refused to yield.
ABS-CBN Regional Network Group sources confirmed that Flores talked to Castillo briefly but it did not yield positive results purportedly because of the suspect's demands. It was not clear, however, what were those demands.
Police said Flores had a pending complaint before the Department of Social Welfare and Development for alleged violation of Republic Act 7610 or Special Protection of Children Against Abuse, Exploitation and Discrimination Act.
They said Verano herself filed the complaint after Flores allegedly castigated the victim's younger sister two months ago.
They said it was possible that Flores had asked Verano to withdraw the complaint but when the latter refused it drove the hostage taker to hurt and detain her.
Source
Asian Spirit overshoots runway in Masbate City.
A plane with 47 people on board overshot the runway at an airport in Masbate City when it encountered strong winds during landing Wednesday.
The Asian Spirit aircraft skidded to the edge of the airstrip after apparently encountering strong winds on landing, company vice president Rodolfo Garcia said.
Josefina Nuñez,, Masbate airport manager, said in an interview over dzMM that an initial report from their airport tower personnel said that "heavy tail wind with gustiness" during the plane's landing cause the accident which occurred around 7:30 a.m.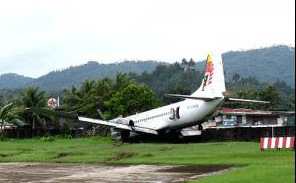 "… sa lakas ng hangin hindi nakayang i-break, bigla ang hangin nang pagbaba nila mismo hindi nila na-control ang lakas ng hangin bigla ( …due to strong winds they were not able to break, they were unable to control [the plane] due the sudden gust during their landing)," said Nuñez.
The 70-seater Japanese-made YS-11 turboprop plane Flight 321 from Manila was piloted by Captain Alexander Tiglao with Dominick Mendoza as co-pilot said Nuñez. Nuñez said the flight crew was warned by tower personnel of wind conditions at the airport before landing.
The airport manager said the pilot was able to swerve the plane upon landing avoiding possibly heavier damage to the plane.
Nuñez said the incident destroyed the plane's right propeller, and its right and nose wheel after it hit the airport's fence when it overshot the runway. The incident also caused a leak to the plane's fuel tank which fortunately did not burst into flames.
The passengers which consisted of 36 adults and seven children and four crew were evacuated from the plane shaken but unharmed, he said, adding that tests would be carried out on the aircraft.
ABS-CBN Regional Network Group reported that according to police officials, the aircraft will definitely be grounded for some days at the airport for damage assessment by the Air Transportation Office.
Asian Spirit services domestic routes in the Philippines and is popular among budget travelers, including foreign backpackers travelling to see the scenic countryside. Source

PGMA leads rice distribution in Masbate.
Masbate became the first recipient of President Gloria Macapagal-Arroyo's new Rice Distribution Program. No less than the President herself led today the distribution of the food items under the administration's new food program at the provincial capitol here, on Thursday, December 13. Assisting the President were Masbate Gov. Eliza Kho, Rep. Narciso Bravo, (1st Dist.); Rep. Antonio Kho (2nd Dist.), Rep. Rizalina Lanete (3rd Dist.), and Budget Secretary Rolando Andaya Jr., also the Bicol Cabinet Officer for Regional Development (CORD).
Dubbed "Pamaskong Handog ng Pangulong Gloria Macapagal-Arroyo," the white plastic gift bags contained food items, including two kilos of rice each. About 500 residents from Masbate's 20 towns, and 1,000 residents from Masbate City received the gift packs, 30 of them directly from the President. The Chief Executive also distributed five certificates to operate "Tindahan Natin" in Masbate, while 323 "Tindahan Natin" operators will be given start-up capital in kind – 38 in the first district, 124 in the second district, and 161 in the third district.
A "Botika sa Barangay" was also set up for the Mobo Association of Small Entrepreneurs (MASE). An additional set of assorted medicines will also be distributed to various rural health units in the province. The President also distributed livelihood kits – 75 "Mekaniko Kits" and 25 "Masahista Kits." To mitigate hunger in the province, President Arroyo also distributed some 32,000 assorted vegetable seeds and 340 bags of hybrid white and yellow corn. Some 17 head of goats, 220 pullets, 110 cockerel, and 40 sets of garden tools were also distributed to residents of the province. By Glenmore

Australian miner investing $58M in Masbate project.
MANILA, Philippines--Australian firm CGA Mining Ltd., which has spent $36 million on construction of its gold project in the central Philippines province of Masbate, will spend $58 million more in 2008, a government official said.
CGA expects to produce $74 million worth of gold annually throughout the eight-year potential mine life after the Masbate project comes on stream by end-2008, said Eleazar Quinto, undersecretary for field operations at the Department of Environment and Natural Resources.
Quinto in a press statement described the Masbate gold project as "one of the priority minerals development project in the country" that would pay about $4 million in taxes when in full operation.
The project employs at least a thousand people during the construction stage and is expected to generate jobs for 600 people during the mining operation, he said.
CGA is listed on the Australian Stock Exchange and the Toronto Stock Exchange, and also has controlling interests in the Segilola Gold Project in Nigeria and the Mkushi Project in Zambia, Quinto said.
The company entered Philippine mining by acquiring last March the interest of Thistle Mining Inc. in the Masbate gold project, which is co-owned by Filipino firm Filminera Resources Corp.
The feasibility study was approved by the Mines and Geosciences Bureau early this year.
With estimated gold reserves of 71.3 million tons, proponents of the project are looking at a daily production rate of 12,000 metric tons of ore.
Quinto said Michael J. Carrick, president and chief executive of CGA Mining Ltd., had commended the Philippine government for its "professionalism and transparency, which enabled the firm to fast-track mining operations in Masbate without delay and without corruption. Source

Masbate's Maximo S. Lazaro Elementary School
Pasig City (17 December) — "If a child is always the center of everything the school does, the school head needs to know the child. He has to get to know his family. He has to spend time with them."
So says Jerry Arizala, the school principal of Maximo S. Lazaro Elementary School (MSLES) in San Pascual, Masbate. This school's tale is a turnaround one. Its scores were at the pit when Arizala first took over. Of the 27 schools in the San Pascual District, it took the 27th spot.
But today, fifteen years later, MSLES has become one of the top 10 schools in the National Elementary Achievement Test in the country and Arizala is among the ten principals who were recognized as "Most Outstanding School Based-Management (SBM) Implementer," by the Third Elementary Education Project (TEEP).
TEEP is the flagship project of the Department of Education (DepEd) to institutionalize SBM in the public school system. This led to school improvement, boosted the confidence and the morale of school heads and teachers, and strengthened the bonds of the schools and communities that support the schools.
Arizala's ached as he looked over his school's dismal performance. He sought to extract the root of the problem. He found that since the teachers were either from Masbate Mainland or Ticao Island, many of them were always late, if not absent in their classes. Worse, most were also lacking dedication and commitment to serve. Residents also did not get involved and even considered themselves passive beneficiaries when they receive development efforts.
Thus began his and MSLES' quest towards social change. He realized that he needed to relate with three groups of people: the pupils, the teachers, and the community. His ability to harmonize the roles of these schools sub-systems, with the child at the center is the key to the school's success.